Savour the taste of digital growth with NB Communication
In the dynamic and competitive food and drink industry, a strong digital presence can set you apart from competitors and help attract new customers.
For food and drink businesses, NB Communication is the strategic digital marketing partner of choice when it comes to building websites, optimising e-commerce solutions and creating multi-channel campaigns that drive growth and elevate your brand. We understand that every business and every product is unique.
Our team will explore the inspiration behind your products and develop innovative and engaging ways to share that with potential customers. Our team will help you share the full, fantastic story, to build relationships, deepen your brand strength and generate more sales.
Proudly based in Lerwick, we have clients in Shetland, Orkney, Scotland, across the UK and internationally, giving us a unique insight and experience. As experts in Shopify and with a deep understanding of the challenges and opportunities in the food and drink sector, we are here to help you succeed.
Our expertise in the Food and Drink sector
At NB Communication, we've built a reputation for providing strategic tailored digital marketing solutions and have helped many businesses in the food and drink sector. We understand that your business is not just about great products – it's about telling a story, creating an experience, and building a loyal customer base.
Why choose NB?
Shopify Specialists

NB was one of the first agencies in Scotland to be accredited as "Shopify Experts" on the e-commerce platform, which is a perfect match for food and drink businesses looking to establish a robust online presence. Whether you're an island-based artisanal producer, a Scottish distiller, soft drink brand, or retailer, our e-commerce experts can create a unique and user-friendly digital shop that reflects your brand and drives sales.
Digital Marketing Mastery

It's not just about having a great website – although we can build that for you – it's about getting your brand noticed. At NB Communication we're digital marketing enthusiasts with an obsession for content marketing strategies. Our team will offer strategic insights to ensure every campaign has the best chance of delivering meaningful benefits, and we will dive into the data to analyse and optimise campaign performance.
Multi-channel strategy

Whatever your goals, we will consider the specific needs of your food and drink business to build a tailored marketing strategy. We understand that every business and every product is unique. We we will explore the inspiration behind your products and develop innovative and engaging ways to share that with potential customers. Our team will help you share the full, fantastic story, from the origins of your business concept and the provenance of excellent ingredients, through the attentive production process and careful shipping to the final experience of customers enjoying your food and drink product. Find out more about how we support Provenance Brands here.
Brand building

Adopting a multi-channel marketing strategy will expand the reach of your campaigns and NB's insight will ensure that all marketing assets are developed with specific audiences, platforms, and positive actions in mind. Sharing the story behind your product and passion for quality, helps build trust, deepens your brand's relationship with customers and inspires more sales. We will focus on SEO, social media, content creation, paid digital, email marketing, and more to generate buzz, increase reach, enhance engagement, and boost your sales figures.
Some of our recent food and drink projects
Development of an optimised online hub for the membership organisation, with an easy to update database and an interactive food and drink trail to inspire visitors. The project is part of the wider orkney.com network of sites, which NB is proud to have worked on for many years.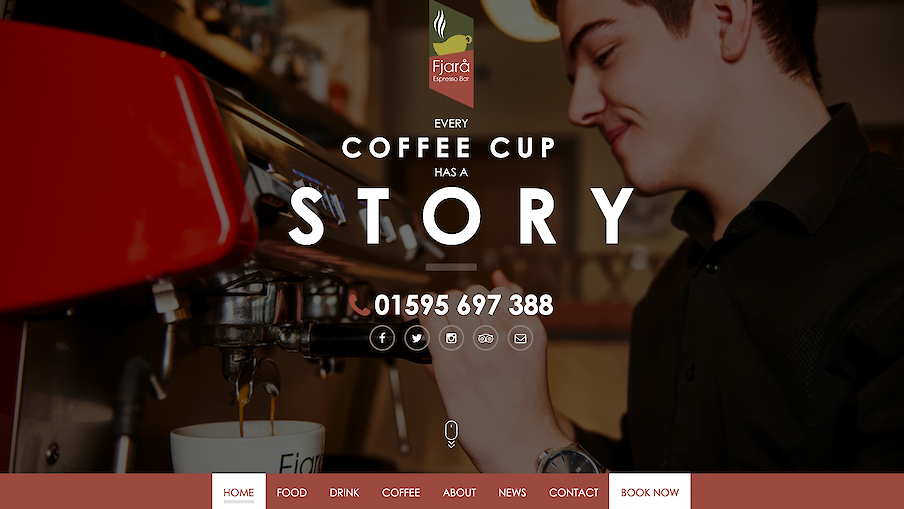 Local roots, global outlook
NB is proud to hail from Shetland, and our journey in the digital marketing world began in the islands amid beautiful landscapes and the vibrant economy and culture. While we remain deeply entrenched in the Shetland community our expertise knows no boundaries.
Our services have benefited many food and drink businesses in Shetland, but we have partnered with successful businesses across the UK, across a range of sectors.
Whether you are local or national our focus remains the same – helping you grow your food and drink business and succeed in the digital world. We achieve this through our unique understanding of remote and island organisations, as well as partnerships with national brands and retailers.
In-depth Industry Knowledge

Our team has a deep understanding of the food and drink sector. We know the importance of highlighting the uniqueness of your products, telling your brand story, and connecting with your targeting audience.
Strategic Understanding

Before every project we complete a thorough strategic analysis that allows us to create websites and marketing campaigns that resonate with your followers and reach new customers.
Proven Success

Our portfolio of work is a testament to the successful approach we have refined over 20 years. We've helped many food and drink businesses ranging from craft producers to national brands and helped increase their reach, awareness, engagement and sales online.
If your business is worth shouting about, NB Communication can help spread the word. Your business's digital journey starts here.
Start planning your next digital campaign with NB