A Busy June!
Now, the past month has been extremely busy, but also very rewarding and I will tell you why.
Apart from the agency being involved in a number of exciting new projects with some amazing new clients, which you'd be able to learn a bit more about very soon, I also had the opportunity to attend a Business Residential Training with ScotGrad's 2017 Graduate cohort!
And let me tell you, those were three days filled with a LOT. A lot of us, a lot from us and a lot from them.
Which, very much in a nutshell, resulted in all these happy faces...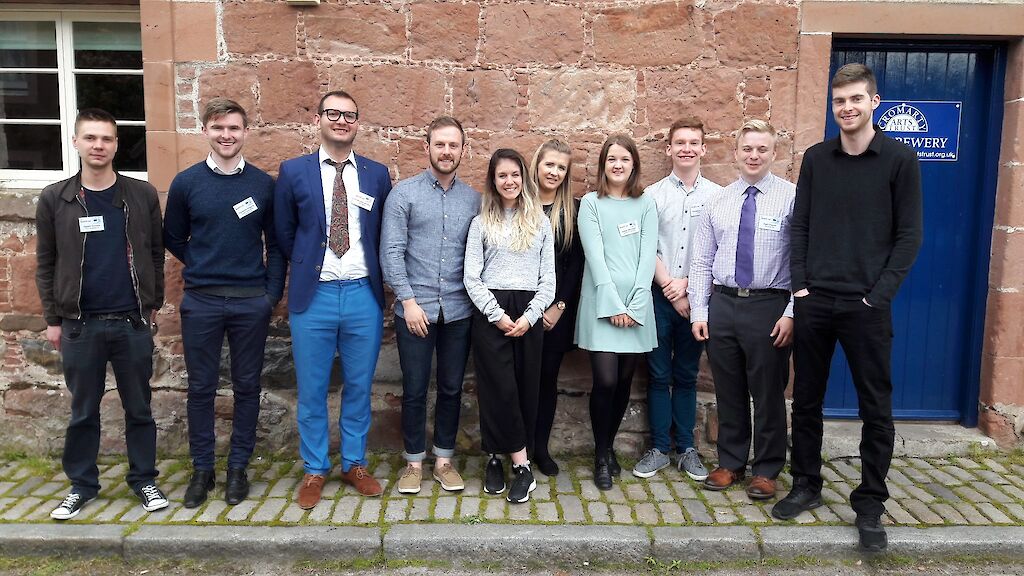 ScotGrad
For those of you who don't know, operated by the Scottish Enterprise, Highlands and Islands Enterprise and AGCAS, ScotGrad is an organisation, launched in August 2013, with the aim of providing businesses, social enterprises, and talented skilled graduates across Scotland with the opportunity to work together and learn from each other in the name of mutual growth!
And this sure is true. The three-day-long event I attended was my first face-to-face interaction with representatives of the organisation and I'd like to say that these are the loveliest, most helpful and dedicated to their job people, who truly love what they do.
Here's a useful infographic for those who wish to learn a bit more about ScotGrad.
Business Residential Training 2017
Ok, so to be honest, I was very excited initially, once I learned about the training. I'm generally enthusiastic and eager to meet new people, network and experience new things. But oh, did I get stressed when it came to the actual day before leaving! I really thought… three days, in the middle of nowhere, with no one I really know. A bit scary. What if I don't like anybody, what if nobody likes me? What if we don't speak to each other and everybody's too shy? What if I don't do well on our final day presentations (which were, btw, the scariest part of the training)?
You get the idea. I felt a bit uneasy to say the least. So I'm going to show you a 'before' and 'after' photo of the event… and please don't spend too much time looking at the 'before' one – I so much didn't want to share this one, but I'm really trying to make a point here... : )
Again though, as any new experience in my life lately, I was a bit worried about this one, and it turned out to be one of the best in my life.
After a long day of travelling from Edinburgh to Inverness and a very bumpy bus ride from Inverness, I finally reached Cromarty – the town we were going to spend three days in. It was really small, however absolutely lovely – the beautiful landscapes allowed for some amazing photos (I went wild with my camera again)...
As you can probably tell, there wasn't much to see and do, apart from the picturesque nature that surrounded us, so all of us graduates had to stick together to make this enjoyable – and surprisingly we all really did!
Much to my surprise and amazement, and contrary to all but one (Lerwick visit) of my new experiences, solo travels and moving I've done so far (and believe me, I've done a lot of those ever since I left home), this time the whole group of new people, who literally just met each other, got on exceptionally well.
All of us quickly got to know each other, we were all very opened, interested and filled with enthusiasm to learn more about each other's characters and businesses. I could see everybody was worried about the exact same things I was thinking of prior to my arrival at Cromarty, but I also noticed how everybody were slowly getting comfortable mingling away.
Our first evening was all about networking, discussing with ScotGrad's friendly staff what the program was for our stay, meeting our lovely hosts – Cromarty Arts Trust 'Old Brewery' – and finishing off an exceptionally enjoyable and relaxing evening with lots of delicious food and some drinks in one of Cromarty's two (!!!) pubs!
Cromarty's bakery is also worth mentioning – 22:30 in the evening and the bakery's one-of-a-kind chicken Balti pie is the only thing 10 young graduates could think of!
After some particularly useful business lectures and practical workshops from representatives of Strathclyde University' Business School until 5 pm, mixed with enjoying Cromarty's welcoming warm sunshine and the 'Old Brewery's' massive 3-course meals, we would all spend an evening either exploring Cromarty's surroundings or simply chilling in the garden.
And then, of course, some drinks in one of those cosy pubs, a game of pool, a pie and some philosophical conversations about the meaning of life.
What can I say, we had it all, and we made the most of it!
Let's do Business
To give you a flavour of our lectures and practical workshops, an example task for us was to have an actual sales call – prepare and be knowledgeable about an industry and business of a fellow graduate, we've never before worked in, in the matter of 30 minutes, by asking him relevant questions. We basically had to work very well as a team and pass on information quickly and efficiently. Then we would speak to the 'client' on the phone and attempt to pitch/sell our organisation's services!
These particularly useful practical tasks were coupled with actual industry representatives visiting the residential training, to briefly pitch their respective organisations and current business issues. Drawing on our own personal experience and knowledge gained and developed so far, we would all then individually attempt to provide useful, practical advice and resolution to the issue at hand, with the aim of achieving a business' particular goal.
On our last day, in the morning just before delivering individual presentations, we had a very informative and enlightening session with representatives of the Highlands and Islands Enterprise, on the topic of Insights Discovery Profiling – which were also extremely kind in providing us all with a thorough individual Insights Discovery profile. It was unbelievable how true and accurate such detailed information could be about an individual and how much this could be of use and help in both personal and professional sense for both the individual and his workplace.
Much like the Myers-Briggs 16-type test and Karl Jung's theory, here we also got to discover which type each of us was. I was quite happy to realise I am a truly extroverted Creative Inspiring Helper, who is all in service of others, nurturing and accommodating – loving people. This session once again proved to me how such profiling could help you get to know yourself, your strengths and your personal work style better, as well as those of the people around you - and how such key insights could be harnessed and wisely employed for the success of an organisation.
I personally recommend the Insights Discovery Profiling, as you do get some very useful information presented in an engaging and interesting format – here's a little photo of it, so you can get an idea of what I mean…
Final Day Presentations
I'm not going to lie – this really was stressful, I've never particularly liked public speaking, but am quite happy to say I've come to slowly overcome this. It's too annoying to have prepared so well, but be stumbled by your own anxiety. And I have always been very determined in countering that. Having always received positive feedback on each and every presentation, I've still always felt so stressed while carrying them out.
This time was no different. We had to present a bit about ourselves, our three-day experience of the business course, the organisation we work for, how the course had helped us, what of it and how we could apply in our day-to-day organisational setting and business direction. And then there were, of course, the judges' questions. I should say, however, that the fact all of us graduates became good friends by day 3, helped a lot in feeling quite confident in presenting in front of so many people. The friendly faces that really wanted you to do well, made you feel that you actually can and the only thing stopping you was yourself.
A panel of judges and business representatives from across Scotland were the rest of our audience and despite being so worried, I should mention that I was awarded second place for my presentation and the graduates' choice certificate! I never expected that as I never knew we were actually being graded, but I must've done something right, I guess : )
And to wrap it up…
ScotGrad, never stop doing what you do - you're amazing and inspiring – it really does make me want to just go on business exchanges, meet new people, network and grow both as a person and professionally. Thank you so much for an amazing experience!
Graduates, thank you for being such a cool and friendly but also a very professional bunch – each one with his own individual unique character, from whom each of us learned a lot in an extremely short time.
I really do believe that the best way to learn is from each other. ScotGrad values this and I feel I'm more than ready and determined to apply everything I've learned back to NB communication in the best possible way. So stay tuned! Some exciting new stuff coming our way : )
And again, a massive THANK YOU to all those involved!