Ranking high in a Google search can be difficult. If you're a local business, you have an advantage: a much smaller pool of competition.
Google is optimised to filter its users' searches for quality local content. It even takes distance into account when arranging listings, as well as a large number of other ranking signals, thanks to its 2014 Pigeon algorithm.
As a local business, what this means is that optimising for local searches gets you found by the right people – those closest to you – and also places you on Google Maps near them.
Industry experts are emphasizing that local SEO now matters more than ever before. In short, although having your website optimised for SEO is key, for local listings, having a Google+ Business Listing for your company is just as important.
Set up a business listing (a.k.a. Google's My Business Page) and optimise it just as you would do your website by including all the important relevant details about your business that your customers need to know. For example, opening hours, address and so on.
Then, just like with Google's featured snippets, the search engine will feature your business in searches at the very top, and include all of the information that potential customers need to know.
Have a look at NB's Google listing...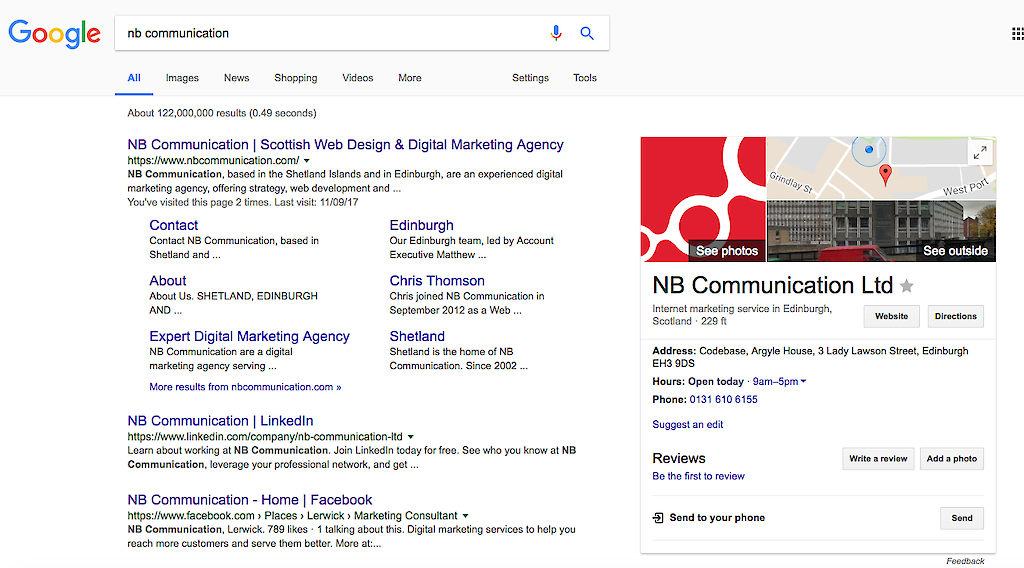 The "My Business" page on Google allows for functionality such as audience interaction, customer reviews, snapshot uploading and updatable listings so more and more people can find you and see what you do at a glance.
The listing will also update accordingly across Search and Maps. The platform also provides essential business insights, such as how have people found you, where are they coming from, calls, requests for directions, to name a few.
If you would like to find out more about optimising your business for local search and/or Google, get in touch. We'd be happy to talk it through with you.
Sources: Google Business; SEO Myths 2017 by HubSpot;