Periscope is an app from Twitter which allows you to broadcast a live video feed from your mobile phone. The app was only released four months ago and has already captured the imagination of people all over the world. No matter what your interests are, there is no doubt that Periscope can be a good bit of fun, but it has huge potential as a marketing tool too.
You can browse available broadcasts by location map which is great for exploring activites around the world and any broadcasts you start yourself can be tweeted so all your followers can join in the action. Only a few weeks ago, @paulmoulton used Periscope to broadcast the Shetland vs Isle of Man football semi-final from the Island games in Jersey.
Already the app has been used for a huge range of broadcast ideas including footage driving through North Korea and Ukraine, the riots in Baltimore and Q&A sessions with various famous and non-famous people.
What does this mean for businesses?
From a digital marketing perspective, we can see this being a big feature over the next few years and a great tool for promotion. Social media is becoming more and more video-led, and with our phones and internet connections now capable of live broadcast, the possibilities are truly staggering.
There are plenty of ways you can use Periscope to help promote your organisation or interests so we've highlighted some of the things you could try.
Behind the scenes – broadcast exclusive events to draw people in
People love to feel special. Getting the inside story of something exclusive is bound to create some interest. For any events or performances you could broadcast from backstage or in rehearsals. Periscope is an interactive tool so interviews with another person or asking/answering questions to those watching will help to get people involved.
Live training – demonstrate your skills
The internet has opened up new possibilities for those wanting to learn new skills, either as a hobby or as part of their profession. Many people will simply search YouTube if they want to find out how to do something. Adding the 'live' element means Periscope can help you promote your skills or communicate with like-minded people. If you are a florist, demonstrate how you prepare a bouquet. If you are an artist you could demonstrate how to draw. You never know who might be watching and it can build confidence in what you have to offer.
Customer support – hold a live session
'Live Chat' has become a popular component of websites, used as both a sales tool and for customer support. People need confidence in the services you offer and want to know that you care about them. Offering a live customer support session can really help to put minds at ease and by confidently addressing issues, you can retain customers as well as attracting new ones.
Announce promotions – promote your brand to a wider audience
A well-crafted promotion can help to boost sales and social media followers providing a good return on investment. With Periscope you could announce these live and promote your brand actively by going through the details. It's much more interesting than reading a long list of terms and conditions and you can benefit by interracting directly with customers.
Interviews or Q&A sessions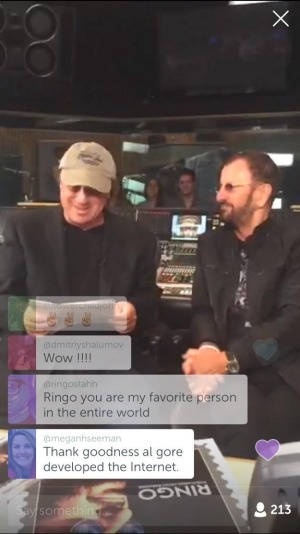 Interviews and Q&A sessions work particularly well because viewers can ask questions by commenting but you don't have the noise of hundreds of people shouting at you! You can pick and choose which questions to answer too. A recent broadcast featured an interview with Ringo Star but you could do one with a staff member, customer or friend as long as you draw people in with an interesting title.
Sneek Peeks – get people excited
If you have a new product, service, or other exciting news, give your followers a sneek peek. You can always encourage them to sign up to your mailing list too so they can be the first to hear when your new thing goes live.
You can download Periscope from the Google Play or Apple Stores below. We're looking forward to seeing what you come up with!