Spam emails aren't a new problem but the culprits are adapting and advancing their methods to increase their chances of catching people out. Last year, a 'smart fridge' was found to be the culprit of sending 750,000 spam emails! With a huge increase in our internet connected devices, the problem is not going away anytime soon. So we've gathered some tips to help you avoid getting caught out and keep your inbox free from spam.
Some of the mosts common types of spam email are:
Password change alerts (eBay, PayPal, iTunes, Banks etc.)
Finance action required (card statements, invoices etc. often with attachements)
Bogus Bookings (hotels and airlines asking for confirmation of bookings)
'No Subject', 'Please Read' or 'Re:' (all encourage you to open the email)
Of particular interest to us at NB are fake domain renewal notices which demand payment in order to keep your website live. This can be tempting to pay due to the potential consequences of not doing so, but you should always make sure to check with whoever you registered the domain with. Our clients will only ever receive notifications directly from us. Here are our simple tips for checking whether an email is spam or not.
Check the email address
The first thing to check is the email address the message has been sent from. Look for errors in the address or incorrect extensions for example an email claiming to be from PayPal that comes from [email protected] is clearly not from PayPal themselves. If you are not sure whether the address is genuine or not, Google it and you'll soon find reports of phishing scams.
Bad images
Many spam emails have images in to try and prove their authenticity. These often end up badly resized, low quality or not formatted properly. So if there is a squashed logo in the top corner it's not likely to be from the genuine company.
Check the links before you click

There may be links in the email asking you to update your information or reset your details. This should flag a warning anyway as genuine companies will not ask you to do this by email but before you click on any links check where they point to. If it doesn't show the senders genuine URL then don't click through. Hovering over a link will show its destination. On a smartphone you can press and hold the link to open the menu which shows the URL.
Look for spelling mistakes
Many spam emails have spelling or grammar mistakes due to bad translation or typos. That's not to say that genuine emails never have mistakes but it is less likely. There may also be typos in the address e.g. paypal could be written as paypa1 and if you were scanning it you may not notice.
Beware of attachments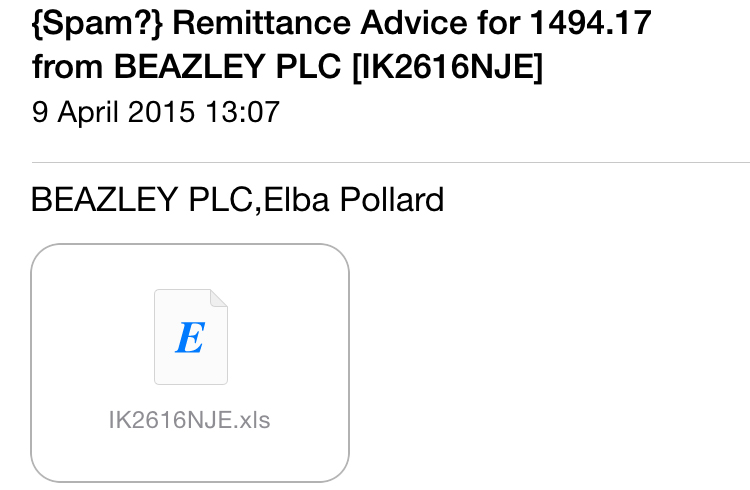 Unless you are expecting an attachment or it is from someone you know directly, you shouldn't really need to open any attachments. Spammers have recently been using a mixture of Word, ZIP, HTML and Excel files under the guise of invoices, remittance slips, reports and other documents you might ordinarily see in your inbox. Some of these attachments can be malicious if opened so if in doubt - don't open them!
Block or Report
Depending on your email client, there are various ways to report or block suspect emails. Doing this helps the email provider to eliminate future spam and stop you receiving more of the same kind of email so make sure you do this, rather than just deleting the suspect message.
Unsubscribe
Not all unwanted email is spam. It might just be unsolicited mail you don't want to receive anymore or didn't sign up to. Clicking the unsubscribe button when these types of email come through certainly helps in keeping your inbox clear. All email messages from companies are required to have an unsubscribe button so if isn't one visible, report the email as above.
Use a clever mail app
There is loads of clever email software and apps on the market now and most of these have built-in ways to reduce spam and keep your inbox showing the things that you actually want. Take a look at this article for a rundown of our recommended apps.