Visit the Website
Republic of Ireland (ireland.com) Analysis:
Accessibility
When first landing on Ireland.com, the impact of the main image is slightly diminished by quite a large cookie notification at the bottom of the screen. Particularly on mobile, this is quite obstructive, taking up about a third of the screen. Once this banner is dismissed, both the desktop and mobile versions of the site are clear and easy to navigate. Clear text and typography with well presented calls to action for transport and accommodation allow the visitor to get straight into some exploration of the destination. Underneath the 'hood', Ireland.com has a few hidden issues. Most of the pages are not W3C compliant, a standard for measuring code quality, accessibility and browser compatibility. In addition, alternative text is rarely used and there are a couple of broken links, both of which lead to user frustration. Not a great start.
Score: 3.5
Content
Unfortunately, the Ireland site doesn't score too well on content either. Although it is easy to read and is well written, many of the pages don't include a large amount of content. For a destination marketing site, this could be seen as beneficial where images can do a lot of the talking, but in the grand scheme of things, websites still need comprehensive and compelling content in order to properly engage visitors and perform well in search engine results. In addition, there are very few pages that have been shared on social media suggesting that this is a significant area for improvement for the Ireland team. Scoring might be harsh but it's the final! You have to bring your A-game!
Score: 3.7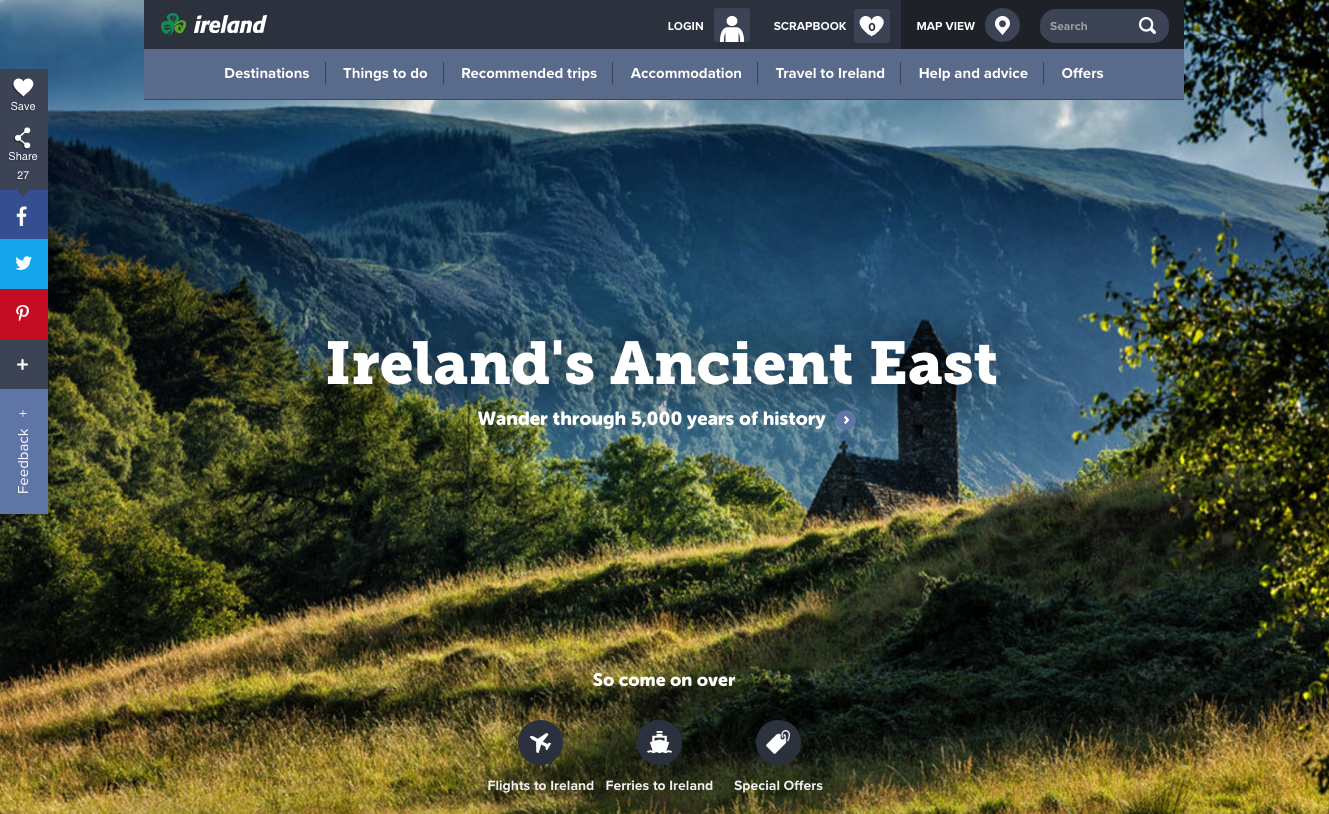 Marketing
The Irish make a bit of a comeback with their marketing efforts. They have pipped Wales on incoming links with over 218,000 links from 8,800 websites, that's more than double the Wales score. The Ireland site is very quick to load and makes use of Open Graph tags to optimise the pages for sharing on social media. It's just a shame that the pages are only shared occasionally so Ireland have to be marked down for this. Most of the pages are well optimised with titles and descriptions but similarly to Wales, some of the titles are too long and some are missing descriptions altogether which is no use for search engine results.
Score: 6.4
Technology
As already mentioned, the Ireland site falls down on a few technical issues regarding W3C compliance and alternative text for images. There is also no print stylesheet meaning you could easily use up all your ink by printing a page that isn't even readable. We ran the same page speed test as on the Wales site and Ireland loads in 2.1 seconds which is a fair bit quicker than Wales. Ireland may have the pace, but lack of organisation behind the scenes leads to a rather mediocre score here too.
Score: 5.2
Design
The Irish site does a better job than the Welsh one when it comes to immediately giving the feel of Irish heritage and culture when a visitor first lands on the page. The big fixed image with it's overlaying content is very striking too. The layout is a little more unique than the Welsh effort, which helps distinguish the site from other, standard destination marketing ones. The choice of typeface is interesting, but we're not entirely sure it works. There seems to be a bit of inconsistency with the styles of fonts used throughout the design, whilst the Welsh site has a much better balance. The map illustrations are very nice, but unfortunately don't do much other than look good. Some interactivity here would have elevated this design feature. Finally, we're less keen on the choice of accent colours (blues and greys). These colours don't really spring to mind when you think of Ireland, and the use of Irish-associated colours could have made a big difference here.
Score: 7.5
Full Time Score: Wales 7.46 Republic Of Ireland 5.26
Gareth Bale and co. were unfortunate to be knocked out by eventual champions Portugal in the footballing event, but Wales go all the way to the title with their destination marketing.
Wales Wins!
Download our FREE guide:
"

5 Problems Causing Your Website To Underperform

"