Our work in the destination marketing sector has led to us winning a number of jobs with tourism-related clients. Ahead of Orkney's busy summer tourist season, we've launched a handful of websites for some of the isle's local hotels.
First up is The Shore, whose website we launched in March. Located on Kirkwall's historic waterfront, The Shore is described as "a 16-bedroom haven for those in the islands to work and heaven for those to holiday".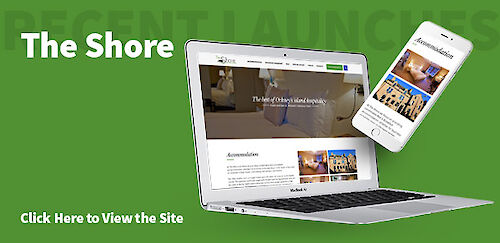 Just a few days later, we launched a brand new website for The Ferry Inn, which along with its 12 rooms, boasts an excellent restaurant and a lively community bar.
More recently, towards the end of May, we launched a third hotel website, this time for The Albert Hotel, a modern, boutique style hotel, featuring rooms with luxury furnishings and a contemporary design ideal for holidaymakers or business travellers.
Two of these hotels are conveniently located in Kirkwall, which is conveniently the final stop on the St Magnus Way. In April, we launched a website for the long distance pilgrimage route through Mainland Orkney, following the story of St Magnus and giving time and space for reflection on the journey.
In addition to our flurry of tourism-related launches, we've dipped into some other industries in Orkney in early 2017. March saw the launch of a new website for reputable local building firm, Orkney Builders. Their new site acts as a showcase of their past projects and current developments.
We finish our roundup with our most recent Orkney launch, Start Point Media. We've worked with the people behind the content creation agency on various other Orkney-related projects over the past year or two, and now we've launched a website to help promote Andrew and Fionn's new venture.