We've developed many websites for self-catering and other accommodation providers and the top thing that these sites need is an online booking system. When browsing the web for somewhere to stay, people want to know how much is it, and is it available. If this information isn't clear, they are more than likely to try somewhere else. With a range of affordable online booking systems available, we've created this summary of some of the most popular options. For more details visit the links to each of the sites. Many of them have free demos and online videos so you can see the systems in action.
Some of the things you will want to think about before deciding are:
How many properties do I want to use the system for?
How will I take payments? Most people want to pay online.
Is an online payment method included in the costs?
Am I happy paying some money up front or does a pay-as-you-go model suit me better?
Does the system look good enough and can it match my existing online materials?
How will the availability calendar be displayed or is it an online form?
How many admin users will I need to manage the bookings?
Already using another system such as booking.com, is it compatible so availability can be synchronised? This is often called channel management.
Once you've thought about some of these questions, you can go ahead and take a look at our recommended options below.
---
Bookster
booksterhq.com

Costs – No setup fee, £7.50 - £120 per month (depending on number of properties)
Payment Info – A range of payment providers supported
Contract - None
Summary:
Bookster is compact, good looking and fully featured with a free demo to get familiar with the user interface. You can incorporate reviews, email marketing and reports as well as automate requests for payment and issue discount vouchers to encourage visitors to return to your accommodation. The modest price point and ability to cancel at any time makes Bookster a great option for accommodation providers with a small number of properties.
---
SuperControl
supercontrol.co.uk
Costs - One off set-up cost, plus an annual licence fee. Please see SuperControl's price calculator for current prices.
Payment Info – SuperControl links with HolidayRentPayment, Secure Trading, Sage Pay and PayPal.
Contract – 12 months
Summary:
SuperControl a complete property management system designed specifically for self-catering businesses. It is used by owners, managers and agencies to manage from one property to hundreds. SuperControl is a booking engine, with a channel manager, marketing and guest management tools (including automated emails), and reporting and analysis features. There is a support team available, plus training, set-up guides, webinars and video tutorials to get you up and running quickly and continue to make the most of everything the software provides.
---
Eviivo
eviivo.com
Costs - £POA
Payment Info – Discounted merchant account (optional)
Contract – 12 months
Summary:
Eviivo is one of the most comprehensive options with pretty much any feature you can think of, plus a handy app so you can keep control your bookings on the go, or even on holiday. Prices aren't available online but you can discuss with a representative via online chat or over the phone and they can organise a one-to-one demo to take you through the features.
---
Free to Book
freetobook.com
Costs – Basic account is FREE with a range of optional extras
Payment Info – Not included but optional extra
Contract – None
Summary:
A popular simple option, FreeToBook is not the prettiest of systems, but it is free and used by many accommodation providers all over the world. There are a range of videos to explain how the system works and a range of options which you can add to your package. Taking payments online incurs a one-off setup fee of £69 then a percentage of each payment made which varies depending on the type of card used. For a simple pay-as-you-go option, this one rates pretty highly.
---
Anytime Booking
anytimebooking.co.uk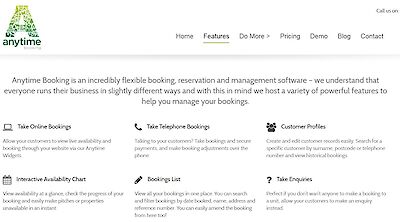 Costs – Setup fee dependant on package and £5-£150 per month (depending on number of properties) charged annually
Payment Info – Not included but optional extra
Contract – None
Summary:
Suitable for a wide range of hotels, campsites, self-catering, holiday parks and guest houses, Anytime Booking is a trusted provider of online booking system. There are a complete range of options including channel management and development tools to integrate with just about anything you already have. The system is also could hosted for easy access anywhere with an internet connection and you can setup unlimited users with different access levels. This is a comprehensive option which would particularly suit holiday parks and campsites with a longer list of requirements.
---
Other options:
Other options are listed below. These all charge a commission which may not be attractive, but the benefit is that you can gain exposure to a larger number of internet users. Each has their own way of signing up and pricing so be sure to investigate before making a decision. If you are looking to integrate a booking system like the ones listed above, then be sure to check that the availability can be synchronised so you can avoid double-booking your accommodation.