Email is an essential part of our daily lives. We can keep in touch with friends and do business all over the world in the blink of an eye. But email is also an ideal tool for marketing and everyone has their own threshold on how much spam they can handle and when to bother clicking the 'unsubscribe' button.
But there's a new breed of email management software emerging which takes advantage of our mobile devices and tablets, and has the goal of trying to speed up and innovate the email checking process. So here at NB, we've been testing out a selection of apps and programs that claim to revolutionise this everyday task and make it something a little more special.
Inky
It may be an unsuspecting name but Inky boasts impressive compatibility allowing you to add any IMAP or POP account without the need for lengthy configuration process. Inky organises your email by splitting types of email into several different categories including Subscriptions, Personal, Daily Deals, Social and Maps. By doing so, all your types of email now have their own space so you don't have to sift through Facebook notifications to find those photos your sister sent you. Features like the Map category scans your email for addresses so you can easily find that address someone sent you 3 months ago. Available for Windows, Mac OSX, iPhone and iPad, Inky is free and boasts a very comprehensive set of features.
Mailbox
From the makers of Dropbox, this app started life on the iPhone and is now compatible with iPad, OSX and Android too. The most striking feature of this offering is the ability to delay your action on an email to some point in the future. No more forgetting to respond because the message has been marked as read, with Mailbox you can focus on what's important now and anything else will re-appear in your inbox at the time you specify. Very handy indeed, and if you are an Apple user, this might be for you.
Triage
A much more simplistic offering comes in the form of Triage, an app for your phone which utilises swipe features on your touchscreen to quickly make decisions on incoming emails. Messages appear as sticky notes on your screen and swiping in a certain direction will archive the message, forward/send a quick reply, or keep it for later. Compatible with most common email providers this is currently an app for iPhone only, but it certainly has the capacity to speed up your email management.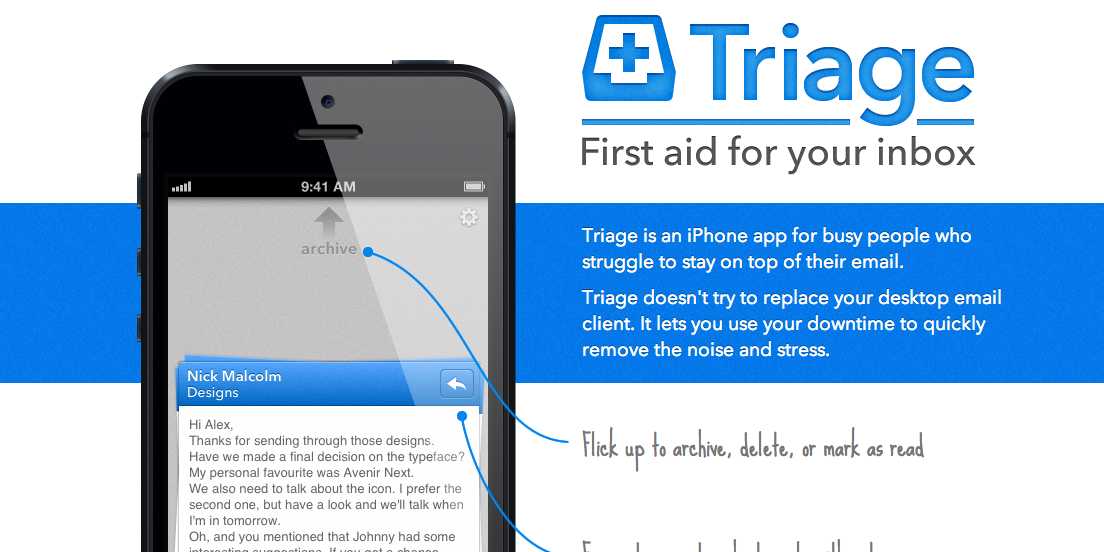 Get more from Outlook
If you are an Outlook user you might not be aware of many of its features and the possibility to tweak options and install add-ons that suit your workflow. There are some handy videos you can watch or download from the Office website that provide loads of tips on automating actions and speeding up processes you perform regularly. Take a look here for the tutorials.
Final Tips
Don't spend ages on your email checking! It's so easy to get distracted from other tasks as soon as a new email comes in but if you dedicate certain times of the day to checking and responding to emails your other tasks can have your full attention.
Create a proper signature. Even if it's only for personal use, it's much better than seeing "Sent from my iPhone". If you mainly use a desktop email client, then you can create a HTML signature that properly links your websites, blogs, email addresses and phone numbers. Particularly for business use, this is essential.
Empty your inbox at the end of each day. Starting each day with a new load of emails is enough. And with our recommended apps, this should be easier than ever!
Don't forget - if you need any assistance with your email accounts hosted by us, want to find out more about coded signatures, or have any other questions on our services, feel free to get in touch. We're here to help!